LARISSA, NO LAST NAME PLEASE: The Coco Chanel of Rock and Roll (from patricia field.com )
Larissa was born in Russia to a furrier father and housewife mother, who became a corsetiere and dressmaker when finances demanded. The couple were political refugees after World War II and moved the family to Brussels, Belgium shortly thereafter, where much to Larissa's dismay her mother liked to dress her up as a princess for school each day, in embarrassing contrast to the more casual style of her classmates. Larissa would pull the bows out of her hair before she got to school, but her mother's attention to detail must have been an early influence on Larissa's sense of style as an adult, as she has always been known for her impeccable taste.
When Larissa was 17 years old she saw the Cassavetes film "Shadows" and was struck by the first scene, which features a glamorous dark haired actress in a New York City penthouse. She had always heard that Americans were stupid, but this was a view into another world entirely, and at that moment she decided New York was where she belonged. She moved to the city at 18 and worked as an au pair for a short time as she reached for footing.
One of Larissa's friends in Belgium, the son of a South American ambassador, told her to go to a nightclub (she doesn't remember the name), on 55th street and drop his name, and that the club would take care of her. The staff and patrons welcomed her, and in the process created history. Larissa quickly adapted to her new nighttime scene and was taken to Andy Warhol's Factory, where she became immediate friends with Andy and all of the famous Factory people. She says she met everyone in the world through Andy.
"I studied Salvador Dali in art school, and there I found myself standing in a room with him while he paid me compliments. It was something."
Larissa got a job answering phones in a television studio through another friend, but was quickly fired when she didn't recognize the president of the company. She was broke, and when someone said to her, "You have to do what you can do," she took it to heart. What Larissa could do was sew, and she began making dresses, which she sold at first to department stores like Alexander's.
One winter, being cold, she needed a coat. Working on her memory of her father's furrier career, she bought some shearling, rented a fur machine, and made her first coat in the deconstructed style she is now famous for. Soon afterward Larissa wrapped herself in her homemade coat and walked to visit a friend on Ninth Street in the East Village. She heard a voice say, "Bitch, where'd you get that coat?" That voice belonged to Miles Davis, who did buy a coat, and who became a lifelong customer. The customer roster grew from there to a high end and prestigious group that included Margot Fontaine, Egon Von Furstenburg, Jimi Hendrix, Gloria Steinem, Lauren Bacall, Dustin Hoffman, Betsey Johnson, Cicely Tyson, Lina Wertmuller, and Giancarlo Gianinni, just to name a few. Her coats were sold at top stores like Barney's, Bergdorf Goodman, and Ultimo in Chicago.
Larissa moved into the Chelsea Hotel and her friend list expanded from Factory and clubland to the world of rock and roll. She was a regular in the back room of Max's Kansas City, and along with Warhol palled around with Nico, Lou Reed, David Bowie, Janis Joplin, and the afore-mentioned Jimi Hendrix.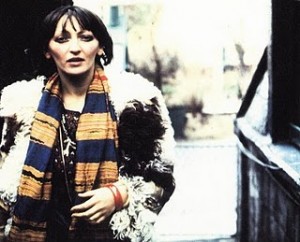 Larissa's best friend Didier Grumbach just happened to be the president of Thierry Mugler's company, and when he introduced Larissa to Thierry they took an immediate liking to one another. Larissa became the unofficial public relations and nighttime representative for Mugler, and many called her his muse. In exchange for the publicity she brought, Larissa received her choice of outfits from his collections each season, and is famous for being seen around town in head to toe Mugler. She says, "Of course that's what I wore, it's what I had and what I loved!"
Although Larissa could have easily coasted on the attention brought by her striking beauty and her evenings as a nightlife fixture and fashion icon, she is at heart a hard-working designer and continued to work on her easily identifiable coats throughout the 80's and 90's. Larissa was featured in a retrospective show at the Metropolitan Museum of Art when Baby Jane Holzer donated one of her coats. Jane neglected to tell the museum where the coat came from, and Larissa was not credited or informed until after the opening.
She has said, "I was a pioneer of many styles, much too early to be recognized now. When we talk about Belgian deconstructionist, I did it before any of them and before they even know what it meant. And I didn't go to fashion school. I did the first dresses with the seams inside out, and my fur coat, my shearling, I've done all my life, and now everybody is doing it. But I don't want to brag."
No one could accuse this amazing lady of bragging. She is simply, and enchantingly, Larissa.
— Written by  blogger, Raffaele, a Patricia Field associate, and printed on her site as well: http://darkladymissanthrope.blogspot.com/2010/07/larissa.html