THIS IS FROM MY LATEST HUFFPOST PIECE, cheers! (sorry that so many links to various titles among author bios got cut/unlinked).
Summer reading lists are as ubiquitous as the inevitable heat, and while I'm always interested in what writers are reading, I find this genre — if that's the right word — a bit cheesy. I mean, why assume people only find time to read in the summer, or even promote that idea? Moreover, there's always a tendency for self-conscious deliberation with such surveys, writers knowing that what they say they read will reflect on who they are. Attempts to tart it up with low-brow themes ala "Guilty pleasures for summer" (Time) or "Reading Romance Between (And Under) The Covers" (NPR) only exaggerate the contrivance, in my opinion. As if people are divulging secrets, when its usually a matter of entertainment (or a name-dropping chess game).
So my desire here was to get as honest a take as I could by keeping it spontaneous and simple. I Facebooked a bunch of writer and editor "friends," some I actually know, some I don't, and asked them to tell me what was on top of their nightstand book pile, or nearest to their bed. Title, author, publisher, date. That's it. No commentary required. Most of us keep the books we want to read by our bed, and what's on top is usually the most current/actively read. "The pleasure pile" as one writer put it.
That said, some respondents reflexively gave me a list of their entire pile while others gave brief explanations. Cintra Wilson, for example, whose work I adore, responded to an earlier thread I'd done for my blog, janestown.net, where I'd polled writers on "great" books they'd never finished. I've purposely left all responses "as is" to evoke a sense of personality, and maintain the spirit in which the request was received. Of course, some never replied, and a couple "left the conversation" as soon as it began, but I'm quite pleased with the range of talent gathered in the end, and am thankful for everyone's generosity.
Replies to the mini-bios I constructed for each varied as well, from "This is a bit old, why don't we switch this title for another book" to "seems perfect" (Ed White, you're a sweetheart!). Trying to give a bite-size overview of 17 careers is not an easy task, but I didn't want to cheat and crib from Wikipedia (always unreliable) or publishing house bios, so I selected works and achievements I found personally meaningful. Obviously not every title authored by each contributor could be included.
And just to convey how odd my approach was, after sending the bio for her approval, M.G. Lord humbly replied, "That's very fancy — longer that what I said about Richard's book. Should I say more?" No need, I answered. For the rest is up to you, dear readers, to infer as you will, including whether or not what's on "top" of one's nightstand book pile signifies anything at all. As to what's on top of my pile, well, I'm at a residency in the woods trying to finish a short story so there's just one book on the nightstand at the moment, Jane Frame's first novel, Owls Do Cry. A magnificent read, I might add. And yes, I'm publishing this list in the midst of summer, but it honestly has nothing to do with the season at all. Consider it inspiration for the Fall!
(In order of responses):
Barry Schwabsky (b. 1957, lives in New York): American poet, art critic for The Nation, co-editor of international reviews for Artforum, author of The Widening Circle: Consequences of Modernism in Contemporary Art (Cambridge University Press, 1997), Opera: Poems 1981-2002 (Meritage Press, 2003),Book Left Open in the Rain (Black Square Editions, 2010), Vitamin P2: New Perspectives in Painting(Phaidon Press, 2011). Contributor to London Review of Books, Times Literary Supplement, Art in America, and Art Press, among other publications.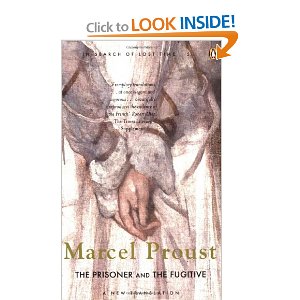 I have a big night stand, so get ready.
Marcel Proust, The Prisoner and The Fugitive, tr. by Carol Clark and Peter Collier, Penguin Classics (UK), 2003 — I specify UK to call out the U.S. branch of Penguin for their stupid decision to cut off publication of the new translation of Proust after the first four volumes
Stephane Mallarme, The Poems in Verse, tr. by Peter Manson, Miami University Press, 2012
Robert Greer Cohn, Toward the Poems of Mallarme, expanded edition, U of California Press, 1980
Etel Adnan, Sea and Fog, Nightboat Books, 2012
John Yau, Further Adventures in Monochrome, Copper Canyon Press, 2012
Gertrude Stein, Stanzas in Meditation, corrected edition, Yale U. Press, 2012
Tristan Tzara, Poesies completes, Flammarion, 2011
Cambridge Literary Review 6, 2012
Linda Yablonsky (b. 1948, lives in New York): American novelist and critic, author of The Story of Junk: A Novel (Farrar Straus & Giroux, 1997). Contributor to T: The New York Times Style Magazine, Wall Street Journal Magazine, artnet.com, The Art Newspaper, Artforum, and Elle, among other publications.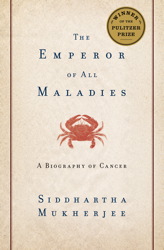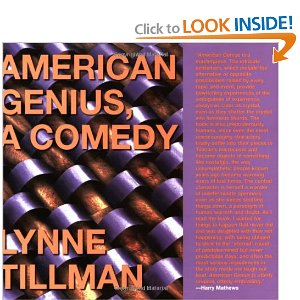 Right now, catching up with Sid Mukhergee's history of cancer, Emperor of Maladies. Fascinating, expertly researched but most of all so beautifully written it's almost a comfort to read while feeling ill (though thankfully not with cancer). Also catching up with Lynne Tillman's American Genius: A Comedy, which had me at the title alone.
Cintra Wilson (b. 1967, lives in New York): American writer, performer, novelist, author of A Massive Swelling: Celebrity Re-examined as a Grotesque Crippling Disease (Penguin Books, 2001),Caligula for President: Better American Living Through Tyranny (Bloomsbury, 2008), and Fear and Clothing: Unbuckling America's Fashion Destiny (forthcoming). Contributor to the New York Times, Salon.com, and New York Magazine, among other publications.
I may never finish any of the books on my obnoxiously pretentious book-pile next to my bed, which is particularly awesomely obnoxious because it is research for the book I never seem to finish writing (due this week):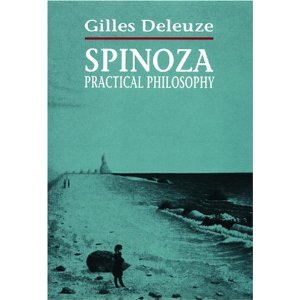 Deleuze – Spinoza: Practical Philosophy Benjamin – Reflections Edward Bernays – Propaganda  Jacques Ellul – Propaganda  Bourdieu – Distinction Orwell – My Country Right or Left (1940-1943) Foucault –Discipline and Punish Koichi Tohei: Book of Ki Elias Canetti – Crowds and Power Simon Doonan –Eccentric Glamour
… and some picture books about Leigh Bowery and some comic books about Karl Marx. And RESearch Pranks 1 and Pranks 2.  Oh and some Adorno stuff from Verso.  Yeah.  Bringing sexy back. Like that. If you're, like, Aspy and Wanting.
Brian Parks (b. 1962, lives in New York): American playwright, Fringe First winner, journalist, current Arts & Culture editor at the Village Voice, author of Americana Absurdum, among other plays.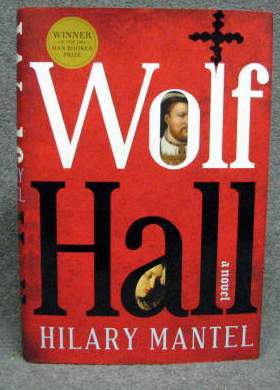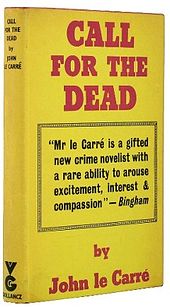 Let's see — just picked up Hilary Mantel's Wolf Hall, since I thought her recent Bring Up the Bodies was so excellent. And last night finished John Le Carre's Call for the Dead, a relative 1962 obscurity for him.
Greg Tate (b. 1957 lives in New York): American writer, musician, founding member of the Black Rock Coalition, author of Flyboy in the Buttermilk: Essays on Contemporary America (Simon & Schuster, 1992), Everything But the Burden: What White People Are Taking from Black Culture (Random House Digital, 2003), Midnight Lightning: Jimi Hendrix and the Black Experience (Lawrence Hill Books, 2003), and James Brown's Body and the Revolution of the Mind (FS&G, forthcoming). Contributor to theNew York Times, Downbeat, and Vibe, among other publications. Conducts the Burnt Sugar Arkestra.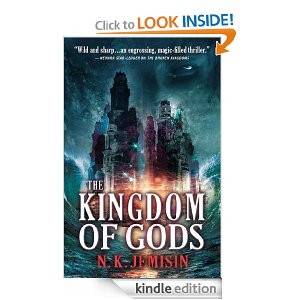 Hey Jane on the tiptop of my pile now is The Kingdom of Gods by NK Jemisin, Orbit Books, 2011
Eileen Myles (b. 1949, lives in New York): American poet, writer-performer, 2012 Guggenheim fellow, 2010 recipient of the PSA's Shelley Prize (2010), Creative Capital/Warhol foundation art writers' grant (2007), author of 18 books including Snowflake/different streets (Wave Books, 2012), Inferno (a poet's novel) (OR Books, 2010), Importance of Being Iceland (Semiotext(e) 2009), Chelsea Girls (Black Sparrow, 1994), and Not Me (Semiotext(e) 1990. Contributes poems, articles and reviews to Bookforum, The Believer, Vice, Parkett, Tin House, Best American Poetry 2010, Harper's, Harriet, Brooklyn Rail, Occupy Wall Street Poetry anthology and others.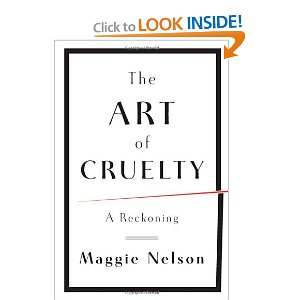 Oh sure, sounds good. Maggie Nelson, Art of Cruelty.
Michael Miller (b. 1970, lives in New York): American journalist, current editor at Bookforum, former editor for the Village Voice Literary Supplement, literary section of Time Out New York, and Spin. Contributor to The Believer, the Texas Observer, and Post Road, among other publications.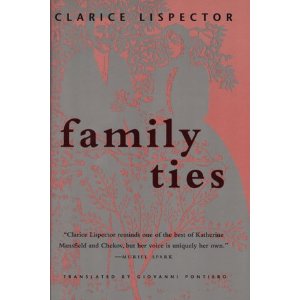 Clarice Lispector, Family Ties.
On Rereading, Patricia Meyer Spacks.
Diary, Witold Gombrowicz.
A Fire in the Belly, Cindy Carr.
Heroines, Kate Zambreno.
Rick Moody (b. 1961, lives in New York): American novelist, author of Garden State (Faber & Faber, 2002, winner of the Pushcart Editor's Choice Award), The Black Veil (Back Bay Books, 2003, winner of the PEN/Martha Albrand Award for the Art of the Memoir), and The Four Fingers of Death (Little, Brown, and Company, 2010). Contributor to the New Yorker, Esquire, Conjunctions, Harper's, Details, the New York Times, and Grand Street. Performs in The Wingdale Community Singers.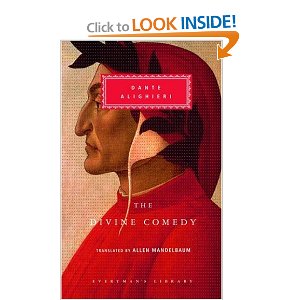 Dante Alighieri, Divine Comedy, Mandelbaum, trans. Have only finished Inferno so far.
Bradford Morrow (b. 1951, lives in New York): American poet, novelist, founding editor ofConjunctions literary magazine, author of Trinity Fields (Viking, Finalist for the 1995 Los Angeles TimesBook Award), Ariel's Crossing (Viking Adult, Second volume of his "New Mexico Trilogy"; 2002), The Diviner's Tale (Viking, 2011), and The Inevitable: Contemporary Writers Confront Death (Co-edited with David Shields. W. W. Norton, 2011). Contributor to the Washington Post, San Francisco Chronicle, the Village Voice, the Paris Review, New Directions Anthology of Prose and Poetry, American Book Review, and Ploughshares, among other publications.

D. T. Max.  Every Love Story Is a Ghost Story: A Life of David Foster Wallace.  Reading the galleys, the book comes out in early September, 2012.
Cheers, Brad
Lynne Tillman (b. 1947, lives in New York): American novelist, short story writer, cultural critic, author of, among other books, The Velvet Years: Warhol's Factory 1965-67 with Stephen Shore(Thunder's Mouth Press, 1995), American Genius, A Comedy (Soft Skull Press, 2006), and Someday This Will Be Funny (Red Lemonade, 2011). Contributor to mags such as Black Clock, Frieze, Bomb, Bookforum, Artforum, and to anthologies including Apocalypse, The Future Dictionary of America, High Risk, Labor Days, Hatred of Capitalism, and This Is Not Chick Lit.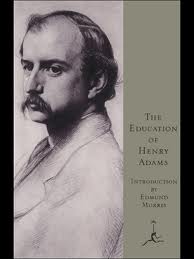 Don't have a night table, but on floor and other flat surfaces: books on Luc Tuymans, and Henry Adams, ie, the Education of Henry Adams.
M.G. Lord (b. 1956 lives in Los Angeles): American cultural critic, and investigative journalist, author of Forever Barbie: The Unauthorized Biography of a Real Doll (Walker & Company, 2004), Astro Turf: The Private Life of Rocket Science (Walker & Company, 2005), The Accidental Feminist: How Elizabeth Taylor Raised Our Consciousness and We Were Too Distracted By Her Beauty to Notice (Walker & Company, 2012). Contributor to the New York Times Book Review, Vogue, the Wall Street Journal, theLos Angeles Times Book Review, and the New Yorker.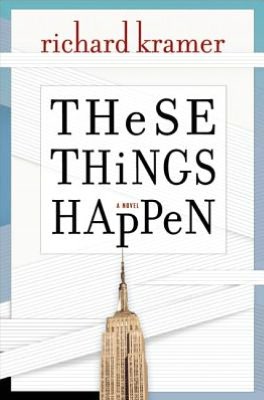 Thanks for inviting me to participate. I have a galley of a fantastic new novel by Richard Kramer that I just finished reading — and was sorry when it came to an end. The title is: These Things Happen. Best, MG
Gary Indiana (b. 1950, lives in New York): American novelist, filmmaker, and visual artist, author ofHorse Crazy (Grove Press, 1987), Rent Boy (High Risk Books, 1994), Three Month Fever: The Andrew Cunanan Story (HarperCollins, 1999), Depraved Indifference (HarperCollins, 2002), Andy Warhol and the Can that Sold the World (Basic Books, 2010), and Last Seen Entering the Biltmore: Plays, Short Fiction, Poems 1975-2010 (Semiotext(e) / Native Agent, 2010). Contributor to the Village Voice, the Los Angeles Times Book Review, New York Magazine, the London Review of Books, Matador, andBookforum, among others.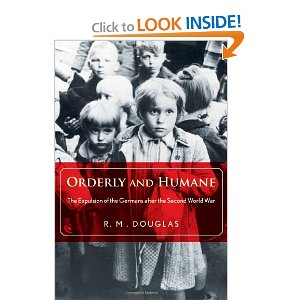 Hi Jane
This is easy.  The book on top of my pile is:
Orderly and Humane: The Expulsion of the Germans after the Second World War by
R.M. Douglas, Yale University Press, June 2012
Best,
Gary
Ed Park (b. 1970, lives in New York): American journalist, novelist, founding editor of The Believer, former editor of the Voice Literary Supplement, literary editor at Amazon Publishing, author of Personal Days (Random House, 2008, finalist for PEN Hemingway Award). Contributor to the New York Times, the Los Angeles Times, and Bookforum, among other publications.

Joe Meno, Office Girl (2012)
Robert McCrum, Wodehouse (2004 — rereading this for a review)
Joshua Glenn & Rob Walker, eds., Significant Objects (2012)
Seo-Young Chu, Do Metaphors Dream of Literal Sleep (2010)
Sheila Heti, How Should a Person Be? (2012)
Paul Cronin (ed.), Roman Polanski Interviews (2005)
thanks!
Ed
Nick Hornby (b. 1957, lives in London): English novelist, essayist, lyricist, and screenwriter, author of Fever Pitch: A Fan's Life (Gollancz, 1992), About a Boy (Gollancz, 1998), 31 Songs (McSweeney's, 2002), A Long Way Down (Riverhead Books, 2005, shortlisted for the Whitbread Novel Award), andJuliet, Naked (Riverhead Books, 2009). Contributor to Believer, the London Sunday Times, theIndependent, GQ, and the New Republic, among other publications.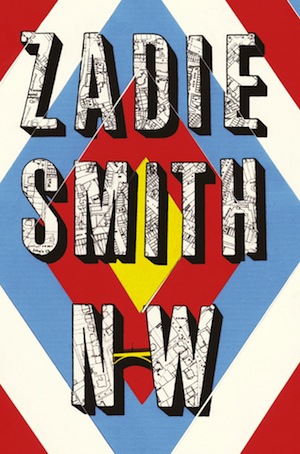 N.W. by Zadie Smith, published by Hamish Hamilton this coming September.
Kathryn Harrison (b. 1961, lives in Los Angeles): American novelist, essayist, memoirist, author ofThicker Than Water (Random House, 1992), Poison (Random House, 1995), The Kiss: A Memoir(Random House, 1997), The Binding Chair (Random House, 2000), A Thousand Orange Trees (Fourth Estate, 2002), Saint Therese of Lisieux (biography, Thorndike Press, 2003), The Mother Knot: A Memoir(Random House, 2004), Envy (Random House, 2005), and Enchantments (Random House, 2012). Contributor to the New York Times Book Review, Harper's Magazine, the New Yorker, Zoetrope: All-Story, and MORE magazine, among other publications.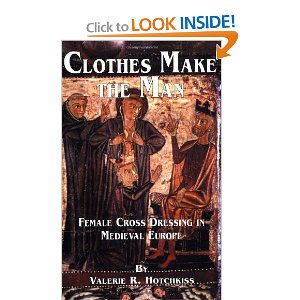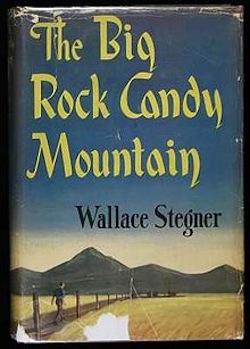 Hmm, I have two stacks, of almost equal height.
Clothes Make the Man: Female Crossdressing in Medieval Europe, by Valerie R. Hotchkiss Garland Publishing, 1996 is on top of the work pile (I'm working on a biography of Joan of Arc). The pleasure pile is topped by Big Rock Candy Mountain by Wallace Stegner. Penguin, 1943.
David Goodwillie (b. 1972, lives in New York): American novelist, memoirist, named one of the Best New Writers of 2006 by members of the PEN American Center, author of Seemed Like a Good Idea at the Time (Algonquin, 2006), and American Subversive (Scribner, 2010). Contributor to the Daily Beast, New York Magazine, Black Book, and the New York Observer, among other publications.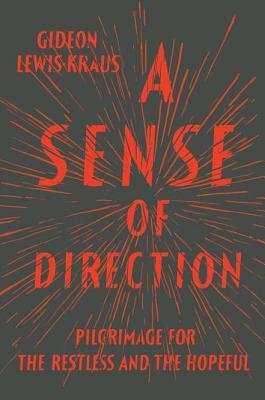 Jane, I'm reading A Sense of Direction by Gideon Lewis-Kraus. It came out in May. Thanks for thinking of me, looking forward to the piece. David
Edmund White (b. 1940, lives in New York): American novelist, essayist, biographer, memoirist, literary critic, member of the American Academy of Arts and Letters, author of A Boy's Own Story (Penguin Books, 1982), Genet: A Biography (Vintage, 1993, winner of the National Book Critics Circle Award), The Farewell Symphony (Vintage, 1998), The Flaneur: A Stroll Through the Paradoxes of Paris (Bloomsbury, USA, 2001), and Rimbaud (Atlas, 2008). Contributor to the Times Literary Supplement, the New York Times Book Review, and Vanity Fair, among other publications.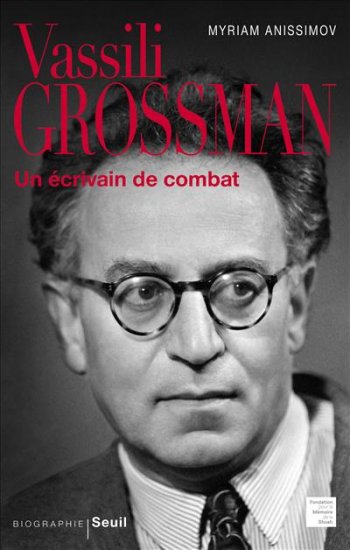 I'm reading (in French) a biography of Vassili Grossman by Myriam Anissimov, Le Seuil, 2012
Dennis Cooper (b. 1953, lives in Paris): American novelist, poet, critic, editor, playwright, author of the novels Closer (Grove Press, 1989, awarded the first Ferro-Grumley Award for gay literature), Frisk(Grove Press, 1991), Try (Grove Press, 1994), Guide (Grove Press, 1997), Period (Grove Press, 2000), My Loose Thread (Canongate, 2002), The Sluts (Void Books, 2005, winner of the 2007 Prix Sade in France),God Jr. (Grove Press, 2006), and The Marbled Swarm (Harper Perennial, 2011).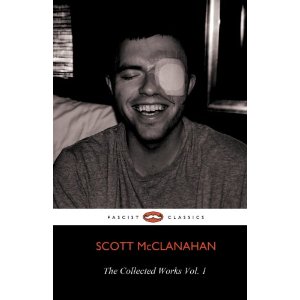 Jane,
Hey. Here's what I'm reading right now:
* Scott McClanahan The Collected Works Vol. 1 (Lazy Fascist Press, 2012)
* xTx Billie the Bull (Mud Luscious Press/Nephew, forthcoming 2012)
* Ken Baumann, Blake Butler, Mike Kitchell 14 Dreams of Death (Solar Luxuriance, 2012)
* Noëlle Revaz With the Animals (Dalkey Archive, 2012)
* Justin Carter Trill (Reality Hands, 2012)
Thanks so much again! If there's anything you need from me or anything, just ask. Take care!
yours, Dennis