Hey there! This year I'm offering two sessions for my annual workshop, open to all NYC-based artists and designers, young and old, emerging and established, etc. I've had BFA students take it, MFAs, recent grads, those who've been at it a while, older artists, architects and designers who want to jumpstart their visual art practice, those looking to write about a specific body of work, etc. The age range has been from 20s to 60s, and I can happily say I've had satisfied customers four years in a row! Maybe because as a critic /writer and professor, I know how to crack the whip (there is homework!), but in a safe, encouraging way. I guarantee you'll come out the better for it, or your Statement will at least, lol!
While in the past, I've had guest speakers (curators, artists, gallerists), the writing and editing process has always engaged participants the most, so this year its all about the STATEMENT. My intern created this Tumblr blog, which will be updated with more testimonials over time, so you can go there for more info, or read below. SIGN UP NOW while there's room, and there's a 10% discount if you mention janestown.net in your email!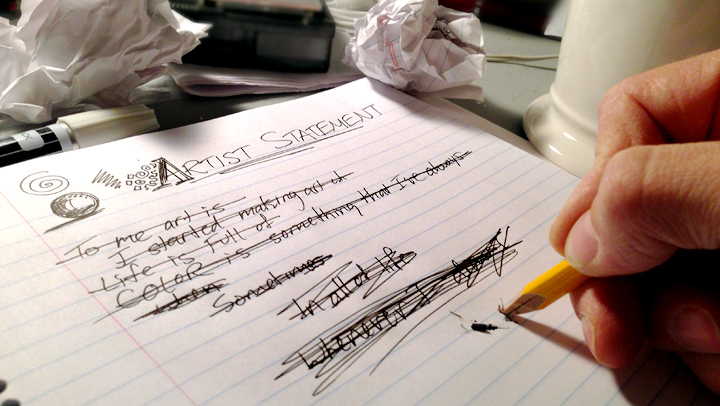 CONQUERING THE ARTIST STATEMENT (AND OTHER INSIDER TIPS): A 4-WEEK
WORKSHOP FOR VISUAL ARTISTS/DESIGNERS
Do you know what constitutes an effective Artist Statement – what tone to take, how much detail is needed, what work to focus on – or just struggle with actually writing one?
Conquering The Artist Statement will teach you how to write and edit a strong, concise Artist Statement through in-class exercises, group critiques, and individual edits geared toward concrete results.
OPEN TO ALL!
TAUGHT BY MOI, JANE HARRIS, PUBLISHED ART CRITIC, INDEPENDENT CURATOR, SVA FACULTY MEMBER, AND FORMER GALLERY DIRECTOR (see ** below for more bio info.)
ON THE IMPORTANCE OF ARTIST STATEMENTS:
"Artist Statements are the foundation for press releases, grant proposals, cover letters, and catalogues. They are essential to your career. Just as your work, life, ideas, etc. change over time, so too should your Statement. An Artist Statement should be updated as often as a resume." Jane Harris
"A poorly written statement has turned me off an artist's work. Being a literary person, I am influenced by the way people speak and write. A badly written or poorly conceived statement pushes me in the wrong direction." Edward Sozanski, art critic, Philadelphia Inquirer
TWO EVENING SESSIONS AVAILABLE: $275. per session.
MAY 20 – JUNE 12, THURSDAYS, 7-9PM/JUNE 4 – JUNE 25, WEDNESDAYS 7-9PM
(LOCATION: PARTICIPANT INC., 235 E. HOUSTON ST. NEW YORK, NY)
TO SIGN UP, OR RECEIVE MORE INFORMATION, EMAIL
janeharr@bway.net (subject heading: ARTIST WORKSHOP).
Testimonials:
"The workshop taught by Jane Harris was very informative and helpful on many levels, particularly, our focus on the often dreaded "artist statement." As a group we dissected and discussed each statement as a stand alone entity, only later to see it in tandem with the actual artwork of each participant. I recognized how an obvious function of the statement can easily fail. Does the artwork actually connect in vision and theme to the writing. Creating continuity and focus between the work and statement continues to be a vital process guiding me whenever I revisit my statement and/or assist a peer/ colleague." Jessica Stoller, MFA Cranbrook Art Academy, PPOW Gallery, reviewed in Hyperallergic and Artforum
"I recently took Jane Harris' workshop and got so much out of it on so many levels. First of all it helped me organize my ideas about my art work in a personal manner with engaging language. I already had a statement but in the class I rewrote it with the help of Jane and with the feedback of the students. The end result was much more authentic, current, punchy, visual and effective.
Shortly after Harris' workshop, I curated a group exhibition in Chelsea featuring my work and that of others, and my perfected Artist Statement from Harris' workshop was very instrumental in the planning of this show, its press release, etc. I also made great contacts and friends in this course, which attracted high caliber artists with whom I was pleased to engage."
Rebecca Haskins, MFA St. Martins, London
"At this point in my painting career I have been feeling an ever growing need to communicate with others and your workshop hits the spot. I genuinely appreciate what you are doing and this has been a very refreshing experience for me. Believe or not, it took a quite a lot of courage for me to come out of my studio and talk about my paintings. I am glad I did, and it means a lot to me. Thank you." Suhee Wooh, Pollock-Krasner Foundation Grant recipient, Pierogi 2000 gallery
**Jane Harris is a Brooklyn-based writer whose writings have appeared in publications from Art in America and Artforum to Time Out New York, and the Village Voice. She is a regular Huffington Post columnist, and has also contributed essays to various catalogues and monographs such as Hatje Cantz's Examples to Follow: Expeditions in Aesthetics and Sustainability (2010); Boulder Museum of Contemporary Art Carla Gannis (2008); Phaidon's Vitamin P: New Perspectives in Painting (2004) and Vitamin D: New Perspectives in Drawing (2005), Universe-Rizzoli's Curve: The Female Nude Now (2004), and Twin Palms' Anthony Goicolea (2003). Ms. Harris is a member of the art history faculty at School of Visual Arts, and has curated exhibitions reviewed in Art Forum, New York Magazine, the Village Voice and Time Out, New York. She is the founder of the blog(zine), janestown.net, and has been the director of two long-term NYC non-profit art spaces.
(private consultations also available)